Gluten-Free Brazilian Cheese Bread aka Pao de Queijo
A HELLA simple gluten-free Brazilian cheese bread (aka pao de queijo) recipe that I fully intend to transform into a pizza crust for my wife some day.
Ingredients
Instructions
Buy a good stand mixer.
Line two baking sheets with parchment paper.
Preheat oven to 375.
Mince garlic.
Beat eggs in a small bowl.
Cube up butter into a small saucepan.
Add water and milk to saucepan and bring to a boil. (Stir intermittently.)
Dump tapioca flour into stand mixer bowl.
Pour boiling mixture over flour and mix on slow.
Gradually increase speed until dough is smooth and Mr. Fantastic-like.
Add garlic and Parmesan cheese to mixing bowl.
Gradually increase speed until dough is smooth and Plastic Man- or Elongated Man-like.
STOP THE MIXER.
Stick your finger in. (That's what she said.)
If it's uncomfortably hot, wait a couple of minutes. (That's what she said.)
If it's just warm, remove finger and turn the mixer on slow and slooooooooowly pour in eggs.
Gradually increase speed until dough is smooth and Elastigirl-like. To be clear, Elastigirl of The Incredibles, not the Doom Patrol.
Evenly dollop golf-ball-sized portions of the dough in a 3x3 grid on both baking sheets.
Bake for 20 minutes.
Per the picture, the cheese bread is done when just starting to turn golden with a pox of brown spots where the cheese hits the surface.
Regret thinking of the word, "Pox" while baking delicious pao de queijo.
Eat.
NOTES: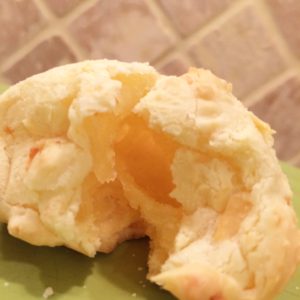 This is a lightly modified and geekified version of King Arthur Flour's gluten-free Brazilian cheese bun recipe aka pao de queijo.
I wish I had a larger stand mixer so I could double up the recipe, because these things disappear much faster than they cool.
Alternately, I could get a second stand mixer bowl.
I'd like to try this recipe with Romano cheese instead of Parmesan, because YUM!
Either way, get "fresh" shredded cheese from the refrigerated section of your grocery store, NOT the room-temperature grated Bantha poodoo near the dry pasta.
For the tapioca flour, I like Bob's Red Mill.
Dolloping is surprisingly difficult because of how sticky and stretchy the dough is. I've found that using two large tablespoons has been the easiest way for me to get consistently sized dollops without making a Kaiju-sized mess.
Add to Favourites